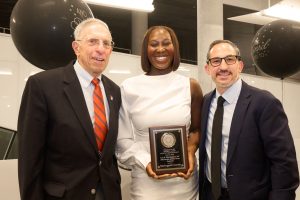 Several years ago, Lee Michaels, our senior member, was asked and agreed to endow a significant scholarship and award at Syracuse University College of Law recognizing a second-year top trial or appellate advocacy student.  The primary goal in initiating this scholarship/award was to help a worthy student, but it was also aimed at attracting fresh applicants interested in advocacy to the law school.
This year we are pleased to introduce to our readers the fifth winner of the Lee Michaels Award and Scholarship:  Mahogani Counts.
The photo, from left to right, shows Lee Michaels, Mahogani and Professor Tod Berger, who heads the Advocacy Program at SU Law. (Photo attribution: Chuck Wainwright Photography).
Mahogani Counts was born and raised in Powder Springs, GA. After graduating from McEachern High School, Ms. Counts attended Louisiana State University. At LSU, Mahogani graduated Cum Laude with a Bachelor of Arts in Mass Communication with a concentration in Political Communication. She also received a Minor in International Studies.
Throughout her time at LSU, Mahogani completed over 75 hours of community service, giving back to the greater Baton Rouge Area. As Assistant Director of Philanthropy, she coordinated and facilitated fundraising for the university. Also, as Assistant Director of Philanthropy, Mahogani created a new tradition at LSU. She developed a toy drive during the holidays so that less fortunate children could have gifts to open on Christmas morning. Mahogani also volunteered with Geaux Big Baton Rouge and MLK Day of Service from her freshman to senior year. These events included supplying hurricane relief and collecting trash to clean the streets.
Ms. Counts also volunteered as a 'Reading Buddy' with the Volunteers in Public Schools (VIPS) organization. At least once a week, Mahogani would travel to Merrydale Elementary School in Baton Rouge, Louisiana, to read to students with reading comprehension and language challenges. Mahogani's dedication to community service helped her to realize that serving others was not only a personal goal but a professional one as well.
In 2021, Mahogani was accepted into numerous law schools but decided to pursue her legal education at Syracuse University College of Law. Mahogani is as passionate about civil and criminal litigation and national security law. As a Juris Doctor candidate, Ms. Counts is also pursuing a Certificate of Advanced Study in National Security and Counterterrorism Law from the university's Security Policy and Law Institute.
In April 2023, Mahogani was awarded as a Scholar in the Intelligence Community Centers for Academic Excellence (ICCAE). The ICCAE program is designed to increase the diversity of the U.S. Intelligence workforce by introducing students to unique coursework and training to prepare them for careers in the Intelligence Community.
In August 2022, Mahogani was selected to compete on the Travis H.D. Lewin Advocacy Honor Society's trial team ("AHS"). As a 2L, she competed in the Tournament of Champions and the National Trial Competition. Furthermore, Mahogani was elected to host the 46th annual Lionel L. Grossman Trial Competition in the spring of 2024.
In April 2023, Ms. Counts was awarded the Lee S. Michaels Advocate of the Year Award for her contributions to AHS and fierce advocacy. This is an award Ms. Counts takes great pride in. Competing on two AHS trial teams has been the most challenging yet rewarding experience of her law school career, and she has appreciated the guidance, advice, and mentors gained along the way.
During the summer of 2023, Ms. Counts seeks to expand her interests in litigation while interning at the Westchester County District Attorney's Office.
Congratulations Mahogani!  Lee and the other members of Michaels Bersani Kalabanka are proud to have you as a Lee Michaels Advocate!
Keep safe!
Mike Bersani
Email me at: bersani@mbk-law.com    I'd love to hear from you!
Michaels Bersani Kalabanka P.C.
Syracuse NY Personal Injury Lawyers
Michaels & Smolak, P.C.
315-253-3293