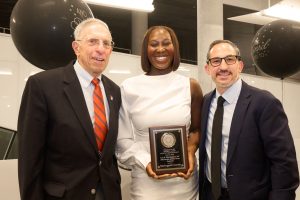 Several years ago, Lee Michaels, our senior member, was asked and agreed to endow a significant scholarship and award at Syracuse University College of Law recognizing a second-year top trial or appellate advocacy student.  The primary goal in initiating this scholarship/award was to help a worthy student, but it was also aimed at attracting fresh applicants interested in advocacy to the law school.
This year we are pleased to introduce to our readers the fifth winner of the Lee Michaels Award and Scholarship:  Mahogani Counts.
The photo, from left to right, shows Lee Michaels, Mahogani and Professor Tod Berger, who heads the Advocacy Program at SU Law. (Photo attribution: Chuck Wainwright Photography).