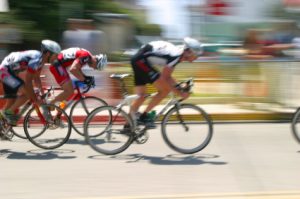 As my regular blog readers know, this Central New York personal injury lawyer is also a huge bicycle devotee.  I have been cycling for pleasure and exercise for decades.  I have also been representing injured cyclists for decades.  But since I'd rather save my fellow cyclists from the heartbreak of a bike injury than help them recover from one afterwards, I am once again posting some reminders regarding New York's bicycling safety laws.  If you're planning to ride a bicycle in New York, it's important to be aware of these laws to avoid any legal troubles and ensure your own safety.
First, as in all States, cyclists here are required to ride in the same direction as traffic. Bicyclists are not permitted to ride against traffic. Doing so is especially dangerous when you approach an intersection as the vehicles turning toward you will not be expecting you there.
In addition, bicyclists in New York are required to ride as close as "reasonably" possible to the right-hand curb or edge of the roadway, unless they are preparing to make a left turn, passing another vehicle, or avoiding hazards on the road, in which case they are allowed to "take the lane".