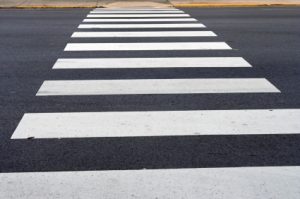 The answer to the question posed in the title of this blog post is "yes".  I will show you how this is true using a recent case I settled as an example.
My pedestrian-client was injured while j-walking across East Genesee Street in Auburn, right outside our main office. The pedestrian seemingly did everything wrong:  She chose to cross the street a hundred feet or so from an intersection equipped with a traffic light and crosswalk.  Further, she did so at night, dressed in dark clothing, so dark in fact that the witnesses who saw her lying on the pavement after the collision assumed she was a black trash bag that had blown into the road.  The only thing that "tipped off" the witnesses that the black bundle in the road was a person was a shock of blond hair.
Despite these seemingly "bad facts", we got a substantial settlement for her. How?