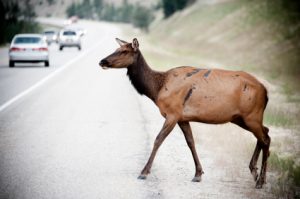 We are right in the middle of "regular-firearm" (as opposed to bow-and-arrow) deer hunting season in New York State. It started October 23 and ends December 12. So let's talk about car-on-deer collisions, how to avoid them, and the legal consequences if you don't.
Deer are a lot like you in that, if they are smart, they try to avoid personal injuries.  This means running from bullets.  And spooked deer don't look both ways before crossing any roads that lie between them and safety.
Just like those deer, you need to watch out for your own safety, but instead of fleeing bullets, you need to avoid the fleeing deer.