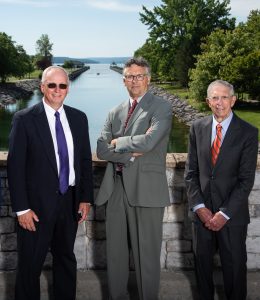 It's been quite a while since this Central New York Injury Law blogger has posted anything.  In fact, almost a year.  It was a busy year and blogging gave way to serving our clients' pressing needs, always our number 1 priority.  But to quote Arnold Schwarzenegger (sort of), "we're back!"  And with lots of news:
News Item Number 1: "Michaels & Smolak" is no longer (sigh).  Jan Smolak, one of our four lawyers, left the firm to go join his lawyer-wife's practice, Perotto Law, in Rochester, New York. We wish Jan luck!
News Item Number 2:  The other three "Michaels & Smolak" lawyers, Lee Michaels, Mike Bersani, and Dave Kalabanka. have remained right here in the same office in Auburn New York, but  are now operating under the name "Michaels Bersani Kalabanka, P.C.".  Yeah, I know, that's quite a mouthful, which is why we prefer to call ourselves "MBK Law".  Our new website is MBK-LAW.com
News Item Number 3:  The more things change, the more they stay the same!  MBK LAW is still 100% committed to obtaining 100% of the compensation our clients deserve, whether they are victims of personal injury or malpractice. The three MBK lawyers  have more than 100 years of collective experience in personal injury and malpractice litigation. We have no "rookie" lawyers among us, only three seasoned personal injury and professional malpractice trial lawyers.
News Item Number 4:  The publication "Best Lawyers in America" named Mike Bersani (based on votes obtained from  lawyers and judges) the "2022 Lawyer of the Year" for the Syracuse area in the field of "professional malpractice"  litigation.  The year before, he was named "2021 lawyer of the year" for the Syracuse area in the field of personal injury litigation. Both Lee Michaels and David Kalabanka were also listed in the "Best Lawyers" publication as top Syracuse-area personal injury lawyers.
News Item Number 5:  We had several large victories in 2022, including:
A $2,500,000 settlement at mediation for a man who fell while climbing down a defective ladder from a roof at a construction site and suffered multiple fractures in his feet, ankles, spine and wrist.
A $750,000 settlement for a worker who suffered electrical burn injuries on his legs, arms and chest in a switch gear malfunction.
$500,000 for a legal malpractice victim whose lawyer failed to timely file a notice of claim against a Town whose school bus driver had negligently collided with her vehicle causing her to suffer herniated discs in her spine.
$500,000 for victim of legal malpractice whose lawyer botched a settlement in her case. (A confidential settlement agreement prevents us from disclosing more facts).
$450,000 for the victims of a boating accident where the boat's operator was intoxicated and caused multiple lacerations from boat's propeller.
$300,000 for 8-year old victim of a dog bite which left a scar on chin.
$150,000 for 80-year old who slipped and fell on walkway at her senior living center and fractured hip.
At MBK LAW we are looking forward to another successful year obtaining justice for our injured and malpracticed clients.  We all hope your year is injury free, but if you or your loved ones are among those unfortunate few who suffer injuries from the negligence of others, call us!
Keep safe!
Mike Bersani
Email me at: bersani@mbk-law.com      I'd love to hear from you!
Michaels Bersani Kalabank, P.C.
Syracuse NY Personal Injury and Malpractice Lawyers
315-253-3293